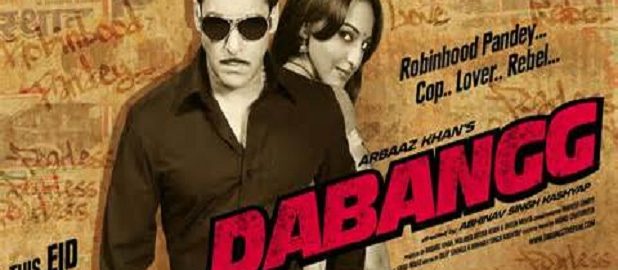 Saw yesterday evening the latest Salman Khan movie – Dabangg. Share a perspective for the benefit of those who have watched it:
Very stylized don't-stress-your-thinking kinda movie: for die-hard Salman fans, a great one; for cynics of Salman, slight image changer OR another torment.
He comes across as a domineering alpha male, with dubious yet openly flaunted approach-set. But once you start looking deeper, you are startled to see, every single character in the movie has been defined exactly the same: a full-bloodied Dabangg in his/her own right.
The sidey bank robber, is decided this is the way I gonna live, very uncluttered in objectives, no guilt-qualms whatsoever about his chosen means, and gives in at the cost of losing life. The female lead, smoothly ensconced in her beliefs about when to marry, if at all; asserting her individuality, with no fear or apprehension.
Her father, a stickler for being steeped-in-alcohol-24×7: no sermonizing or behavior modification try would make him squirm the slightest – takes a clean dominating call on how to get his daughter married.
The characters are so carefully defined, earthy and limited, yet willing to go full blast within character definitions. The weak-minded brother, doesn't attempt being a superhero, just coolly mouths "actually" dim-wit dialogues, comfortably displays similar stances. His fiancee too very sure of how to go about her life partner calling.
The prime anti-hero, so very clear on his limitations, that he neatly adopts shady pitch and ulterior agenda initiatives: says all this upfront, is absolutely incorrigible. Ditto his father-in-law-to be, the shadow cops, the home minister: upfront asking, what-is-in-it-for-me, and no askance stuff in that.
Happily seeking own decided targets-goals, never compromising on own-sense-of-identity, emphatically asserting themselves, like a purebred Dabangg, everyone of the casted artistes.
Is this indicative of current times: nobody takes criticism (no concept of constructive criticism), a heightened sense of individuality damn-any-traditional-shortcomings, ready to USE others in own-scheme-of-things, very very direct in seeking. No urge to inch towards superhuman status, I am Me, take it or leave it.